According to basic principles of modern design, form follows function. The primary function of the living room is to welcome guests into your home with warmth and kindness. Neutral tones, sleek lines, simplistic designs, and open concepts are pillars of current interior design practices. When you are shopping for luxury homes for sale in Raleigh, NC, consider how you will use your living room and what qualities are essential to your satisfaction.
Use neutral colors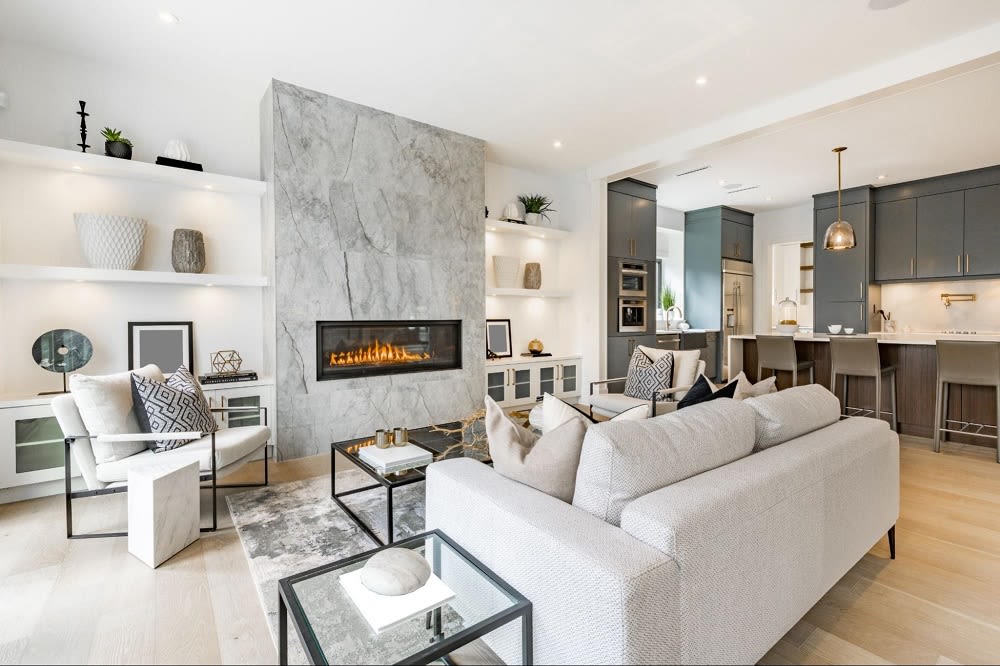 Leave the neon swatches at home! Modern living rooms prominently feature black-and-white accessories and furniture pieces, or lighter grays, blues, and browns coloring the lamps, rugs, and sofas. Minimal-yet-effective color pairings like black and white contrast with each other, accenting elements of the living space such as crown molding, modern archways, and hardwood flooring. Using black and white accents, the colors you do choose to use will pop out and draw the eye to any selected focal point. Highlight your newly outfitted fireplace with white lining, or draw attention to your gray modern sofa with a black and white accent rug.
If you have a shade you are dying to use in your neutral living room, just add some white or gray to the paint mix. A muted color pallet turns the design focus towards textures, prominent furniture pieces, and the room's lighting. Wooden floors, bookshelves, and tables provide warmth to the overall design of your living room, setting a welcoming tone and establishing a warm, familiar atmosphere.
Use less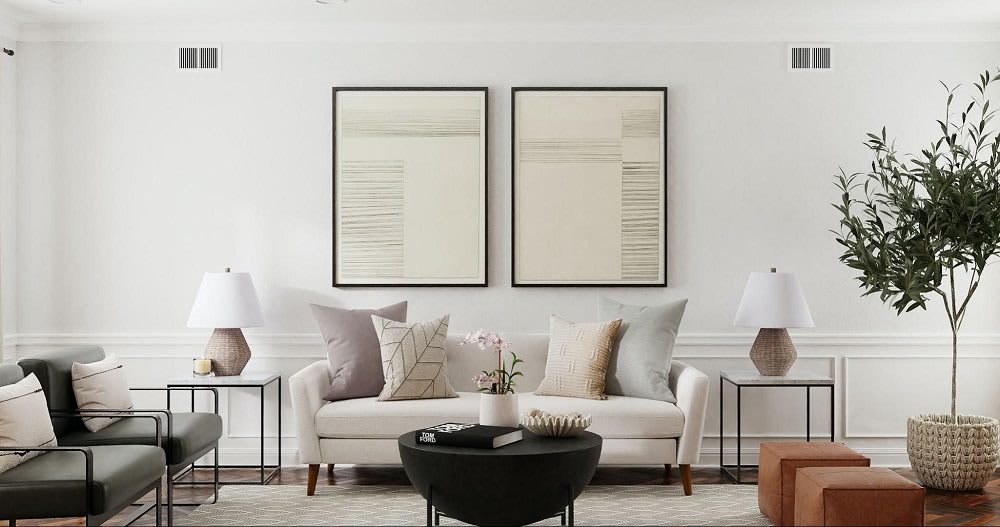 Less is more in the world of modern design. Your living room is for living, after all, not storing. Expert designs that reflect current trends offer little in quantity, but the quality is not forgotten. Minimal choices such as floating shelves, tables with effective storage space, and a limited number of potted plants enhance the overall vibe and experience of your living room. Many luxury homes for sale in Chapel Hill, NC, include minimal living spaces to stay current and inviting.
Fewer accessories and furniture pieces establish a clean, modern look and amplify the natural beauty of the room without disrupting the room's flow. Dense furniture collections and other clutter are to be avoided to keep your living room up to current design standards and maintain allure. Make effective choices and only include necessary furniture, such as an end table, a minimal number of framed photos, and don't overcrowd on seating options. Prioritizing what you include in your living room layout creates a simple living space for family gatherings or after-work relaxation.
Pick low furniture and contemporary materials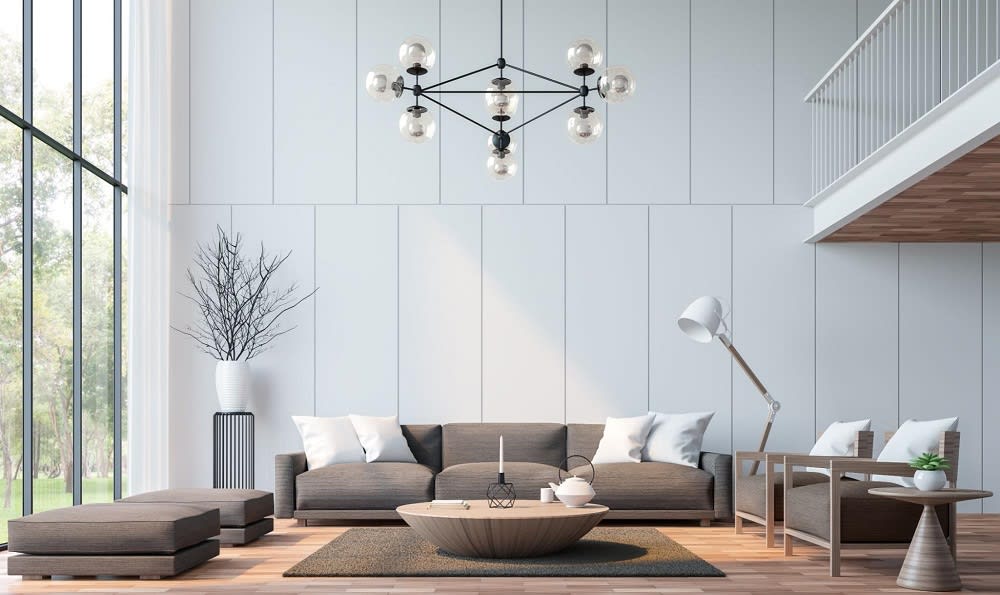 Contemporary designs love to include furniture that is low to the ground. Leather chairs, marble tables, and pieces made from iron provide texture and tactile variance that enhance the quality and eccentricity of modern living spaces. When you are designing layouts for living rooms in luxury townhomes in Durham, NC, opt for lower furniture to increase the perceived "height" of your ceiling and find pieces that use rustic materials for increased aesthetic value.
Low seating has been a popular trend for years, which is influenced by
Japanese origins
. Look back at home designs from the fifties, sixties, and seventies, and you will notice the beginnings of the low-slung furniture trend. Modernism in luxury home designs began around this time, and many of the initially established traditions of the style remain prevalent.
And while wooden accents increase warmth and work well with nearly any color palette, installing pieces made from iron, leather, and marble is a unique choice that will catch the attention of any knowledgeable modern designer. Marble and iron are seldom used in furniture design, and their presence in your contemporary living room sets your space apart from the rest. Keeping up with the latest styles and designs can be hard, but making "more" out of "less" and being selective about materials and height can pay off.
Add a little color
A little personality never hurts! While muted, neutral tones are the standard, they allow for funkier pieces and brighter colors to stand out. Original artwork, flowery curtains, or multi-colored statues may seem like they have no place in a modern environment, but remember our guiding principle: less is more. Sprinkling in a few "attention" pieces will give your living room the right amount of spice and liveliness, taking full advantage of the neutral canvas created by muted wall tones and minimal furniture pieces.

Abstract paintings are a great way to liven up your neutral space. Solicit work from local artists to give your home that unmistakable hometown influence! Or, to explore more vibrant shades, add more clean lines to the borders and edges of your living room, but use a brightly colored line with a small border size. Small, colorful accents make the space your own and break up the monotony of the muted neutral shades that color most of the space. Don't feel like your modern living room cannot have any color or extra accents. A little bit of vibrance goes a long way in a modern design.
Invite some greenery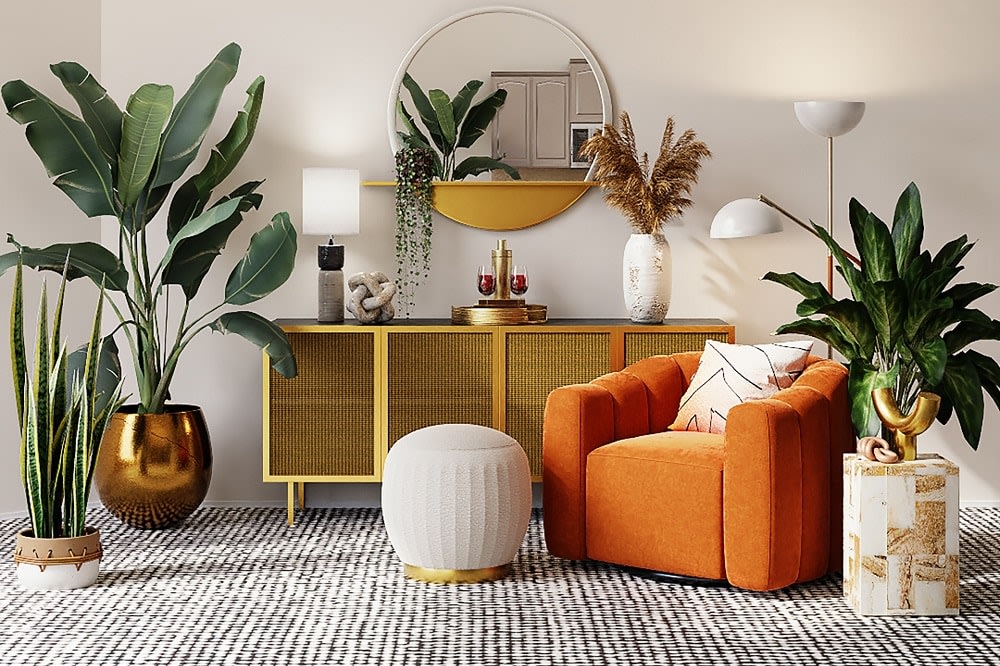 Bring the outside in with a few special accent plants or even some vines wrapped along the mantle! Adding plant life to your sleek design plan boosts oxygen and increases the amount of vibrance and life in your living space. Succulents help treat social anxiety and do well in dry conditions, making them the perfect indoor plant for decoration. Carefully place your succulent near a window facing south or east to create optimal growth conditions, and watch your accent pieces grow as the room evolves.
Trends change over time, but accent plants remain a classic aesthetic choice implemented by forward-thinking designers and practical homeowners. Increasing the botanical presence in your living room creates a nurturing, healthy environment for unwinding, studying, and meeting with friends and family.
Explore luxury property in the Triad
For unforgettable modern homes with expertly designed living spaces, take a look at
RED Collective
and their impressive roster of available listings. Their team of professional and experienced real estate agents makes luxury home buying easier than ever, and RED Collective luxury real estate stands out above the rest.
Contact
their expert realty team to explore luxury homes, bungalows, land, and townhomes in the Raleigh/Chapel Hill area. Their available properties feature modern amenities and sleek, cutting-edge designs that are sure to dazzle and impress!