People talk about statement lighting, but what is it, really? Is it just a particularly bold, eye-catching lamp? Well, it's a bit more complex than that. Statement lighting uses different forms of lighting fixtures to illuminate a room both functionally and aesthetically. While it generally does start with a gorgeous overhead light, you'll also want to layer in wall lamps and standing lamps to ensure your home is bright, inviting, and gorgeous. Doing so when you first move into a new home can instantly put your style at the forefront.
Types of lighting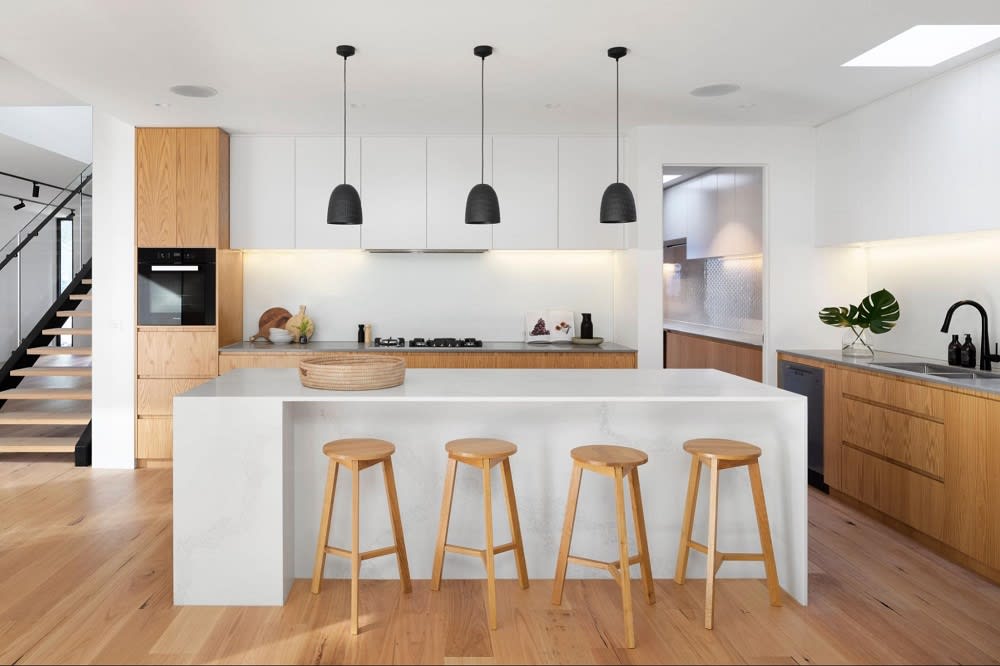 There are three basic types of lighting to consider when designing a room's light scheme. The first, ambient lighting, refers to the overall lighting, generally created by overhead sources and chosen to light the majority of the room. This lighting often needs to be a touch warmer to keep rooms inviting and avoid harsh glares and reflections.

Task lighting is for specific purposes — think under-cabinet lights in your kitchen so you can see better while you cut vegetables or the reading light next to your armchair. These lights tend to be bright but small to illuminate a specific area.

The final form of lighting is accent lighting. Maybe you have artwork you want to highlight or just love a kitschy lamp you found in the antique store and want to use it as an accent piece. Accent lighting can be created using any fixture and in whatever way best suits the style you're trying to evoke.
Types of lighting fixtures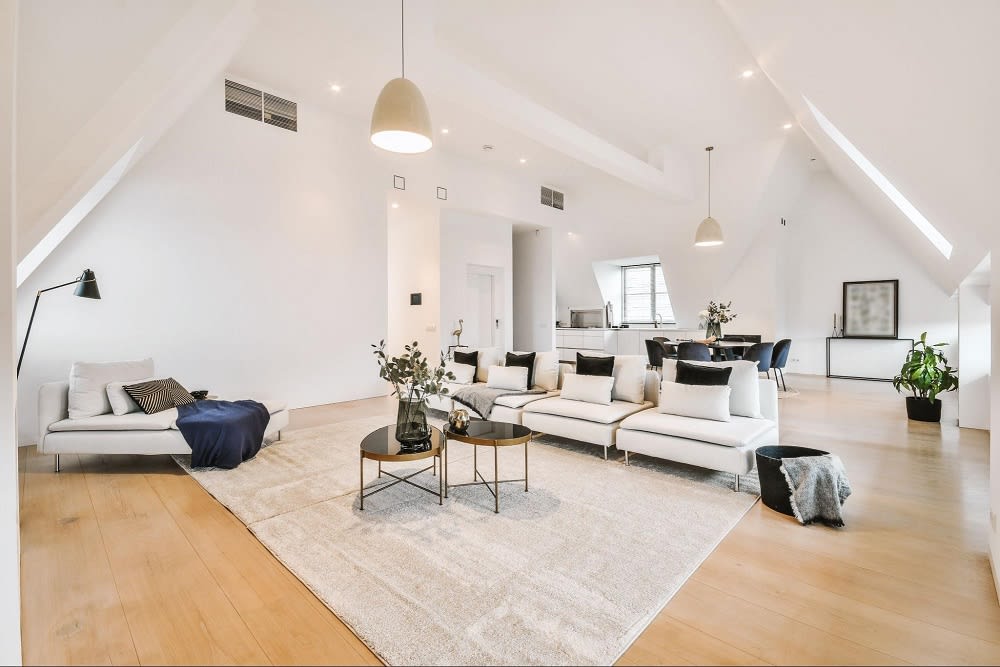 Creating a statement lighting setup means combining different types of lighting to create a certain atmosphere in a room. Ceiling lights, like chandeliers or pendants, are commonplace and come in a variety of styles. While the aforementioned options hang from the ceiling, a flush-mounted dome lamp may be a better option for rooms with lower ceilings, as it draws the eye up and keeps visitors from bumping their heads. Wall lights, which include sconces, are excellent options for muted or directed lighting. If you have artwork that you want to highlight or just need to brighten a dark corner, wall lights are a perfect choice.
Floor lamps and table lamps allow more lighting flexibility, as they can easily be moved within a room or throughout the house based on need. These lamps also offer endless shape, color, material, and shade options. Whether you want an eclectic
gold giraffe lamp
or a more neutral
square wood base
, it's very easy to infuse your own personality into a space with floor and table lamps.
Consider architecture and decor
One key to setting up statement lighting is to consider the architecture of the house and the decor in each room as you choose fixtures. A simple and industrial light fixture with Edison bulbs will look out of place in an antique and ornate Victorian sitting room, just as a gorgeous teardrop chandelier will overwhelm a small room or clash against utilitarian Craftsman exposed beams.

In oddly shaped rooms, a carefully chosen ceiling lamp can work wonders to balance asymmetry and draw the eye towards the center of the room, rather than a slanted wall or tight corner. It's also crucial to take into consideration the size of the room, the height of the walls, and your overall goal for the lighting scheme. Crystal chandeliers can come off as grand and ornate and likely aren't the best choice in an otherwise welcoming family room or playroom, while a plain and understated dome light might not provide enough light for a kitchen and could get lost among the other features of the room.
Arrangement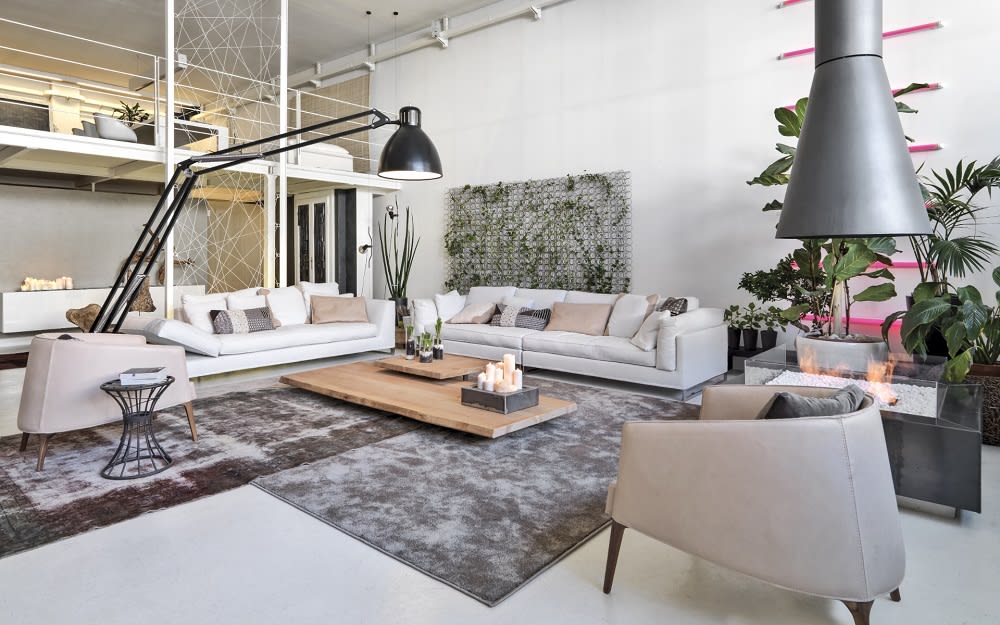 Once you've picked a style to accentuate your decor, it's time to decide how to arrange the lighting. If you're using a ceiling fixture, you want to ensure it's installed high enough to avoid bumping your head and to illuminate as much of the room as possible but low enough to catch the eye and be easily accessible for cleaning and changing out lightbulbs. You may even find that multiple lights, at the same height or varying heights, create almost an art installation on their own.

If you're also using standing lamps, you'll have to take into account where they can be plugged in. While an industrial-style floor lamp may look great in the corner, you'll want to reconsider if it means running a wire across the floor just to reach the outlet. At the same time, adding a lamp to an already illuminated area while leaving a corner dark is going to make the room look unbalanced. Instead, consider your lighting needs as well as style. And if you really need a lamp in a certain spot, you can always hire an electrician to move or add a power outlet.
Tones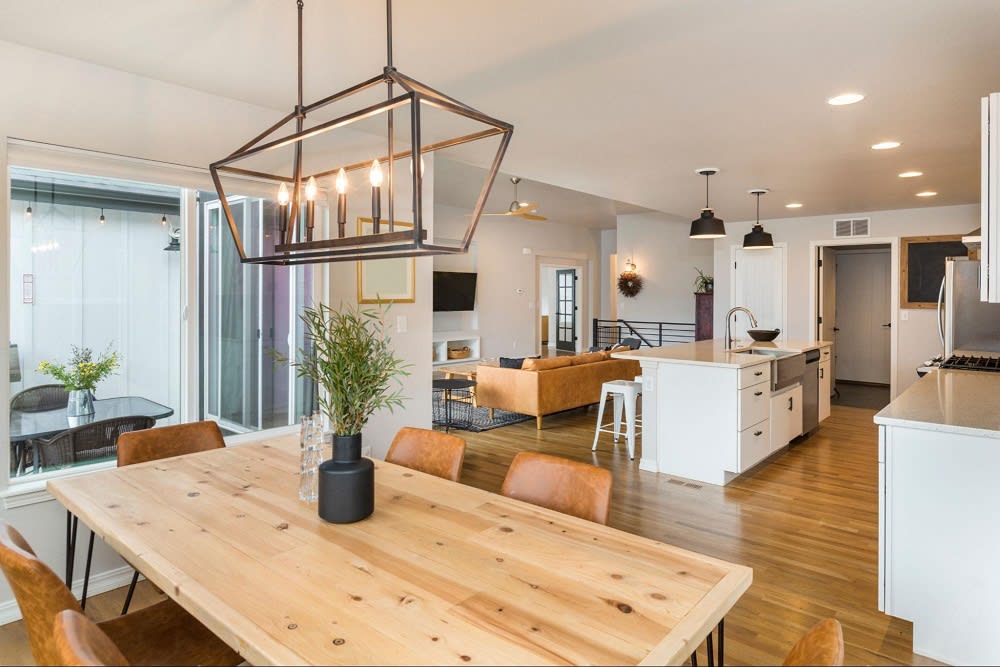 Consider how the light coming from your fixtures is going to look. In some lamps with no or clear shades, you may have much control over this simply by changing the lightbulbs. Using a bright white bulb looks sleek, modern, and clean but can feel cold in the wrong environment, while a soft white or even yellow bulb may warm up a space but can make your wall paint and accessories look tinted.

In other lamps, the shades may affect the lighting. A crystal chandelier with tinted glass pieces can send a rainbow dancing through your dining room with every breeze, or a basket pendant may obstruct some of the light, requiring other options to keep the room bright and open. It's important to consider this factor as you design the lighting scheme to ensure you create the strongest impression possible.
Try your hand at statement lighting in your new dream home by contacting
RED Collective
. As a full-service agency, RED Collective has an
experienced team
of agents who can guide you through every step of buying Durham, NC, real estate, from sorting through listings for viable options for your family and lifestyle to closing on your dream property once you find it. Along the way, you'll have a personal guide to the real estate market and the area, assistance with selling your old home, and access to in-house design professionals — including
interior designer
in case you want help figuring out how to make lighting a focus in your new home.